The Ikigai philosophy
Ikigai is a Japanese concept that translates into "Sense of purpose in day-to-day life". It is about the joy one feels when getting up each day.
Ikigai will bring clarity in your life. It will reveal what really matters to you. It will give you a direction and will avoid you wasting time exploring ways that will lead you nowhere.
With the proper action plan, you'll find happiness and fulfilment in your (professional) life.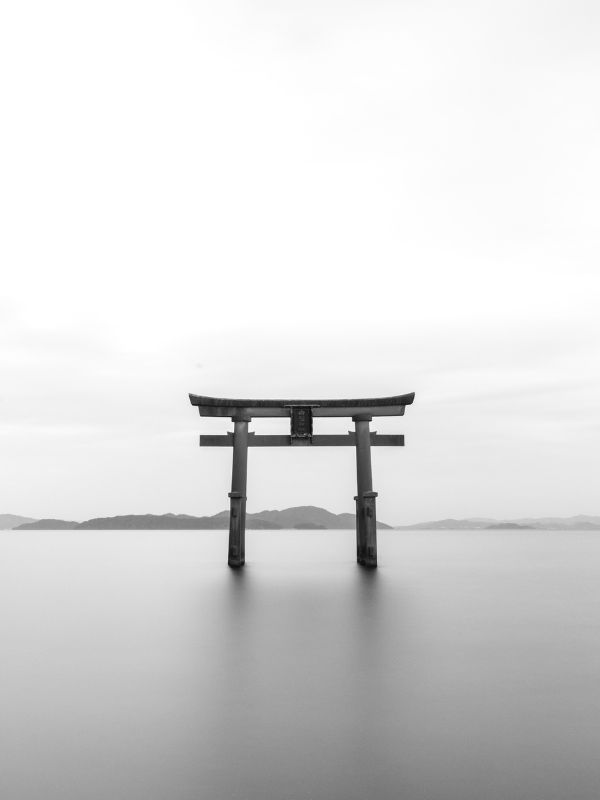 I work with a unique methodology developed by the Ikigai® Coaching Institute in the form of a card game. It is the result of 20+ years of coaching thousands of people and in-depth research of the best literature on Ikigai. The program has been tested and efficiency proven by experts and non-professionals.
The Ikigai Question Game is divided into 3 key sections:
You love it
Deep dive questions to uncover what really drives you at your deepest level.
You're good at it
Questions to help unlock how you really make the difference. What your biggest talents and skills are.
Reality Check
Synchronizing the internal journey with real life!
The game includes 63 reflective questions about preferences, talents, skills and the application in a market with disruption, digitalization and sustainability.
Is the Ikigai Coaching Program right for me?
You are at a crossroad in your (professional) life;
You want to discover what's next for you in life;
You're prepared to do the hard work yourself;
You are willing to answer some challenging questions;
You are ready to invest in yourself;
You're looking for a trusted and professional partner to help you navigate through this process.
First, I give you your personal Ikigai Question Game.
We plan 7 sessions. It is recommended that the interval is the same between the sessions to keep the momentum. The session length is 90 minutes.
Between the sessions, you answer the selected questions (45 to 50) of the 3 sections: You love it; You're good at it, and Reality check.
In the last and final session, you connect the dots, unlock your Ikigai and start with action planning.
The Ikigai Question Game is available in English, French and Spanish.
An online version is also available (English only): IkigaiHUB.
Digital
• Start immediately (no physical delivery time wasted);
• Acces the platform wherever you are (no need to carry the physical game with you);
• Do good to the planet (no trees cut, no printing).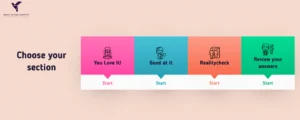 HIGH QUALITY CARDSTOCK
• Enhance your memory retention & cognitive processing;
• Lay out the cards to allow a more dynamic and flexible exploration of ideas;
• Offer yourself a break from screen time.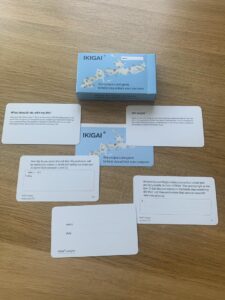 A 90-minute session during which I give you access to your card game and initiate the process.
90-minute one-on-one sessions during which we'll go through your answers that cover the 3 sections.
Last and final session: you connect the dots between all three sections and unlock your Ikigai.
Group session possible – For pricing, please contact me directly.
I respect your privacy & information. By registering your details here, you agree to subscribe to my mailing list.  I keep your data safe and you can unsubscribe at any time.
I had the opportunity to attend the Ikigai training with Nadège.
Thank you so much for this experience that was both interesting and enriching!
I learned a lot about myself and it helped me find my new entrepreneurial project.
Nadège is a true motivation booster!
She listens and makes it a point of honor for us to leave her feeling happy and fulfilled.
Thanks again!
Elise Habbassi – Digital Marketing Coach
(Translated from French)
With Nadège, I identified that my personal and deep values were not in line with the values inherited from my parents. I realized that I was replicating my parents' behaviors in the workplace, towards myself and others. Thanks to this revelation (a profound emotion), I understood the source of my discomfort, and I was able to take action to align myself and no longer feel torn.
Nadège's coaching was carried out with a lot of gentleness and respect. She is very pleasant and available, and I made significant progress. Thank you for that.
Angélique
(Translated from French)
I found this Ikigai methodology very interesting and powerful.
At the end of the program, I felt legitimate in what I could offer to others.
Nadège is cheerful, enthusiastic, and encouraging. She actively listens and is non-judgmental.
Although the sessions are intense, following this program re-energized me.
Corinne – Teacher
(Translated from French)